AI-Powered Content Writer
Amplify your content creation. Create engaging blog posts, ads, emails, ecommerce and website copies in a few clicks.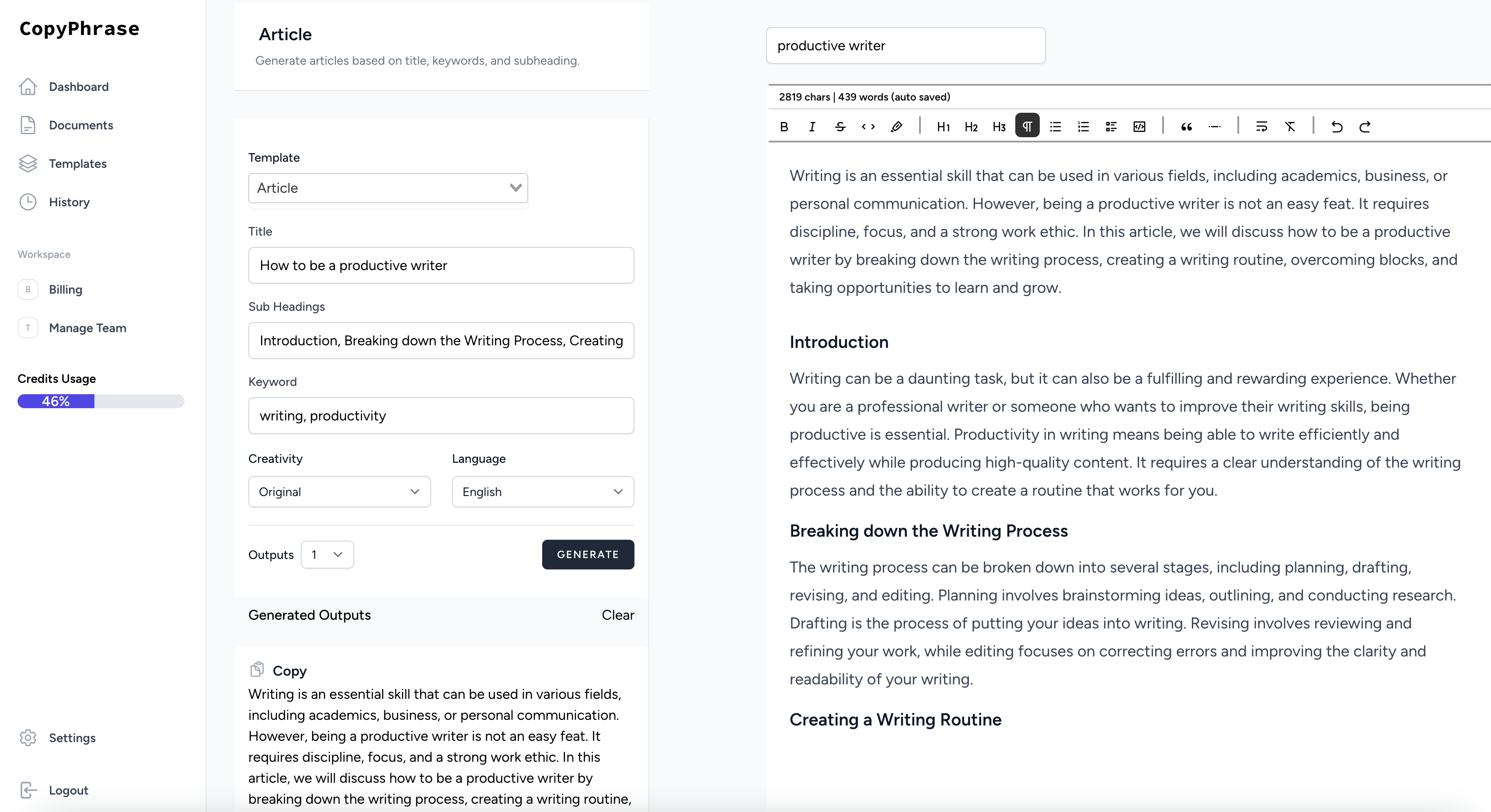 The perfect AI writing tool
For everyone
Write like a pro. Say Goodbye to Writer's Block!
Intuitive AI Assistant
Let our smart AI help you craft impactful content effortlessly for any format or purpose.
Powerful Editor
Effortlessly refine your content with our sleek, user-friendly editor.
50+ Templates
Choose from over 50+ templates that suits your use case.
Multi-Lingua
Expand your global reach with our multi-language support.
Common Use Cases
50+ templates you can choose from
Freestyle
Ask the AI to generate any content you wish.
Summarize
Summarize any content and get the key points.
Explain Like I am 5
Get simple explanations to difficult concepts
About us
Generate about us text on the title and description of a page.
Advertisement
Generate creative ad descriptions for a product or service.
Article
Generate articles based on title, keywords, and subheading.
Blog intro
Generate blog intros based on the blog post title and content.
Blog outline
Generate blog outlines based on the blog post title and content.
Affordable Plans for All Creators
Choose your best plan
Explore our diverse range of pricing options, designed to accommodate every content creator's needs and budget.
Free
$0
Enjoy free access with limited credits to explore our platform.
2,000 Credits

1 seat

50+ Templates

Support for 25+ languages

Rich text editor

Priority support
Get Started
Basic
$9
/month
(15% off)
Ideal for individuals and small projects.
50,000 Credits

2 seats

50+ Templates

Support for 25+ languages

Rich text editor

Unlimited documents

Priority support
Get Started
Standard
$29
/month
(15% off)
Perfect for growing businesses.
200,000 Credits

5 seats

50+ Templates

Support for 25+ languages

Rich text editor

Unlimited documents

Priority support
Get Started
Our customers love our product
Testimonials
Don't just take our word for it, read testimonials from empowered content creators, just like you.
Get Started
As a blogger, this AI writing tool has been a game-changer for me. It's like having a personal writing assistant at my fingertips. Thanks to this service, I can produce more content with better quality in less time.

Olivia K.

- Lifestyle Blogger
As a small business owner, I need to create engaging content without breaking the bank. This AI writing service has been a lifesaver – it's affordable and consistently delivers high-quality, professional copy.

Anthony G.

- Business owner
The AI writing tool has taken my copywriting to the next level. It's been a valuable addition to my toolkit, and I can't imagine going back to the old way of creating content. Highly recommended!

Craig S.

- Freelance Copywriter
Frequently Asked Questions
Get quick answers to common questions about our AI-powered copywriting tool.
How does the AI-powered writing assistant work?
Our AI writing assistant uses advanced natural language processing and machine learning algorithms to understand user inputs and generate human-like text. It analyzes context, learns from patterns, and creates relevant, engaging content based on the prompts or information provided.
Can I try the AI writing assistant before committing to a plan?
Yes, we offer a free trial so you can experience the capabilities of our AI writing tool firsthand. Simply sign up on our website to get started.
Is the content generated by the AI writing tool SEO-friendly?
Yes, our AI writing assistant can create SEO-optimized content to help improve your search engine rankings. Make sure to provide relevant keywords, and the tool will incorporate them into the generated content.
Will the AI-generated content be unique, or is there a risk of plagiarism?
Our AI writing assistant is designed to generate unique content. However, as with any automated tool, there is a slight chance of similarity with existing content. We recommend checking the generated text for originality using a plagiarism detection tool before publishing.
How does the credit system work for the AI writing tool?
Our credit system is based on the number of words generated by the AI writing assistant. Each credit corresponds to one word. Your plan determines the total number of credits available to you, which get consumed as you use the tool to create content.
How do I provide input or prompts to the AI writing assistant?
Simply type your desired prompt, topic, or keywords into the input field, and the AI writing tool will generate content based on the information provided. You can also adjust settings to fine-tune the output according to your preferences.
Can I use the AI writing tool to create content in multiple languages?
Yes, our AI-powered writing assistant supports multiple languages.
Is the AI writing tool suitable for my specific industry or niche?
Absolutely! Our AI-powered writing assistant is designed to adapt to various industries and niches. Simply provide context and relevant information, and the tool will generate content tailored to your specific needs.
Upgrade Your Writing Experience Today!
Join the content creation revolution and harness the power of our AI writing tool. Get started for free and witness your content evolve!.